Linen Questions?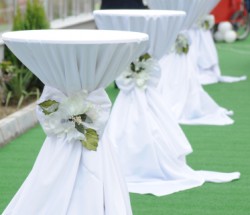 Cruiser tables with 120" round white linen


How much does linen cost to rent?
Pricing is determined by the size and pattern of each table linen or chair cover. Pricing inquiries are welcome by phone, fax and e-mail. Or you can use our online order form. To do this choose your items by adding them to your rental cart.
What size of tablecloths do I need for my tables?
Please see our linen sizing chart. And please do not hesitate to call and ask for assistance.

Do Cody Party chair covers fit most banquet chairs?
We have a variety of chair covers available to fit many chair sizes. We recommend that our client "test" the cover on their chairs prior to making a reservation.

Can I get a swatch?
We have two options to accommodate individual clients as well as members of the trade. For trade clients, our swatch books are an invaluable tool offering many fabric swatches. We are happy to provide our swatch books to you at no charge. Nothing works as well as visiting our rental studio and seeing the cloth on a table. We can even setup a table and place the cloths you are interested in over top so that you can see which one works best. You may even want to bring in one of your centerpieces to ensure that everything looks great! You can also ask us about taking a sample out of our stores.
Matching linen colours
Linen colours may vary. Linens in our rental inventory are sometimes added to at different times from different manufacturing runs. In addition, some pieces within a color/style are rented more frequently than other pieces. Our showroom samples are very good representations of our inventory, but because of the situations described in this section, be advised that the appearance of one linen may vary slightly from another linen in your order. In cases of variations, our preparation staff will do its best to match color hues within an order. If color perfection is an absolute requirement, please discuss this with Cody Party and we can determine if additional pieces can be brought in at an additional cost to the customer.

What parts of the country do you ship rentals to?
Cody Party is a national company and is equipped to rent and ship to anywhere in North America.

Should I make a reservation?
Like our Party Rental Products, quantaties are limited and we highly recommend that you make a reservation in order to ensure that your selection is available. A reservation is only finalized once we receive you 50% non-refundable deposit.

Can I make a change to my reservation?
Yes, you can. You can reduce quantities by as much as 20% per line item up until 72 hours before your order is ready to be shipped out. We ask that you keep us posted while you are receiving your RSVP's. We suggest that you not wait until the last couple of weeks to make a large increases.

How do I place an order?
You may place a linen order by using our online rental form, by fax, email or telephone. We will email you a Rental Contract/Agreement with the selections. To secure your rental, we do require a credit card on file and a 50% non-refundable deposit.

What do I do with damp, wet and/or soiled linens after an event?
Shake all linen free of food and debris before packing them for return. If your linens have become damp or wet during an event, you must let the cloths air-dry before you pack them in the return bags provided. This will help avoid mildew and other damage to the linens, which will result in replacement charges. If you need to hold the linens for a few days to dry, please let us know ahead of time to avoid additional rental charges.

What is your policy regarding misplaced or damaged linens?
If items have not been returned or have been returned in a condition that does not allow further usage, a replacement charge will be applied. Please note that your damage waiver does not cover burn marks, candle wax, holes, stains and mildew.

How can I avoid damage to the linens?
Do not pack linen in plastic, use the bags or boxes provided to you by Cody Party Centre. Never attempt to wash or launder the linen yourself. Free all linen of food before packing in bags. Under no circumstances should you pack linen if it is damp or wet. Other causes of permanent damage are: crayons, markers, chocolate fondue sauce, candle wax.
Do I have to pay for linens I don't use?
We must charge for all linens delivered or shipped to the client. It is often wise to order a few extra linens to accommodate any last minute additions.
What is your cancellation policy?
Upon reserving your items you will be asked for a 50% non-refundable deposit and you can canell your order up until 72 hours prior to delivery and pickup. The full rental charge will apply if you cancell the order within 72 hours of the delivery or pickup date.