Cody Party Games
Cody Party FUN Party Tips
Hand deliver party invitations at least one week before the party date.
Let your child choose a "theme". It is easier to build the party around a theme idea, and incorporating the cake, games and decor into the theme, will tie it all together.
Limit the party time to two hours or less for children under six years of age...you will be happy you did! Up to three hours is fine for older children.
Prepare more activities than you plan to use, in advance. Activities often take less time than planned and you may want to keep the children busy.
Include the birthday child in preparations as often as possible. Let him or her help to fill the treat bags, make game suggestions, put out the decorations, set the table, and delivering the invitations.
If planning an outdoor party be sure to have a backup plan in case of bad weather.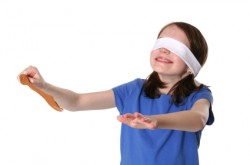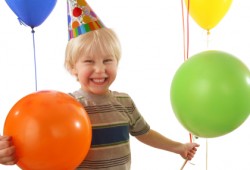 FUN Stuff To Do
Balloon Pop'n'Stomp
Tie a balloon to each child's ankle. Then each child tries to stomp on the others balloon to pop it while trying to protect their own balloon. The one with the last remaining balloon wins.
Duckey Duckey
Everyone sits in a circle except one who is given a pillow and blind-fold. They then go and place the pillow on a persons lap, sit on it and say ducky ducky. The person should say"quack quack" this can be done only 3 times. If the blind person guesses the name the person, they should now be given the blind fold and the game run over again - after everyone has changed their places.
Whispers
Sit everyone in a circle. Whisper a long phrase to one person. They, in turn, whisper what they heard to the next person, and so on. The last person announces what they heard.
The Sleeping Troll
All the children (except one - The Sleeping Troll) sit Cross Legged on the floor in a circle. The Sleeping Troll sits cross-legged in the middle of the circle, blind-folded, with a large bunch of keys on the floor in front of him. A child is nominated to creep up and take the keys and then return to their place, without the waking the Sleeping Troll. The Sleeping Troll has three goes to point to where he thinks the raider is. If he is sucessful, the raider becomes the Sleeping Troll.
Treasure Quest
This treasure hunt is great for outdoors in your backyard, but can also be set up indoors. You'll need to set up before guests arrive so no one sees where you place hints and prizes. String a ball of yarn (treasure rope) around your yard or home, making sure to go around, through, under, and over as many objects as possible. Each child should have a string. The better the maze, the more fun kids will have unraveling the rope. Begin stringing the rope at a convenient spot to hide the final prize. (The kitchen window or door works well if hiding the birthday cake, so you can prepare while the kids are busy in the yard.) Work your way backwards, hiding favors, fun messages, or hints about the prize along the rope's path. Remember that the place where you finish stringing is the spot where the children will begin.
Make & Take Place Mats
For this activity, you'll need crayons, thin pieces of cardboard (for stiffening the placemats), and a roll of clear Con-Tact paper. Find colouring books or print pictures of your party "theme". You may also wish to create each child's name on the computer for them to creatively colour in and decorate. At the party, let the kids color a few pages . While they color, cut the cardboard to match the size of two pages. When the kids finish, lay the pages on top of the cardboard and cover with Con-Tact paper.
Ball/Sun Caps
Purchase solid coloured ball caps. Draw, colour or write a cool message to create your unique cap using fabric marker pens and/or add small jewels. A great summer Craft Party idea. From 5 years up
T-Shirt Design
Watch the young budding designers at work while they create their very own cool t-shirt! Fabric marker pens can be used to write, draw and colour. Use fabric paint and glue to add jewels, fabric embellishments and braiding to enhance their creation. Kids of all ages just love this craft activity.
Quiet Time
Wrap up your party with a video or book. Either one is a great way to calmly entertain kids while waiting for parents to arrive.


FUN Stuff to Eat
Fruit Sparklers
These sweet treats can be quickly prepared beforehand, or you can let the kids make them during the party instead. They'll enjoy rolling and dipping their own colorful, sparkling berries! Strawberries work best, but blueberries and blackberries (or chunks of fruit your child enjoys) can be used for variety as well. First, wash whole strawberries and pat dry with a paper towel. Fill a few shallow bowls with colored sugar (available at most grocery stores) or make your own colors by stirring two drops of food coloring into 1/4 cup of sugar. Offer several different colors if setting this up as a party activity. For each quart of fruit, blend 8 oz. softened cream cheese, 4 tsp. confectioner's sugar, 3 Tbs. milk, and 1 teaspoon vanilla extract in a mixing bowl. Whip with a fork until smooth and creamy. Hold the strawberries by their stems, dip each one in the cream cheese mixture, and roll in the colored sugar. Use toothpicks to spear blueberries, blackberries or chunks of fruit before dipping and rolling them.
Sandwich Roll'a'Roos
Your guests will love these roll-up versions of their favorite sandwiches. You'll need a package of large tortillas, peanut butter and jelly, thinly sliced lunch meat, lettuce, and cream cheese spread. Spread a thin layer of peanut butter on several tortillas. Cover with a layer of strawberry jelly or jam and roll up each one. Cut each roll in 2 to 3 sections. Use the cream cheese spread on the remainder of the tortillas. Cover the cream cheese with a layer of meat and then lettuce. Roll up each one and cut in sections as before. Spear with frilly toothpicks to hold them together, if necessary.
Fruit Freeze Slushies
You'll need the following to make four drinks: 12 ice cubes, one cup fruit, one cup frozen concentrated fruit juice, and one cup of water. Whirl ingredients in a blender, doing half at a time, if necessary. Serve slushies and add a thin slice of lime to the rim of each one for more fun! Enjoy!

FUN Decorating Ideas
Spread your tablecover on your party table. If your child has any theme-related toys, you can add them to the table for a more festive display.

Use plastic tablecovers as fabric and make curtains, theme walls, "ponds" or canopies...let your imagination take over!

Use treat bags as place cards on the table...but no peeking until the end! Treat bags as balloon weights for helium filled balloons make terrific centerpieces.

Cut several one-to-two-foot-long pieces of curling ribbon. Curl the ribbon by pulling it between your thumb and the blade of your scissors. Lay the resulting curls on your table for added splashes of color.

Hang balloons in bunches for the best effect. If you choose to fill balloons with helium, wait until the party day to ensure they float well!

Remember... the entrance area makes the first impression of how great your party is going to be...so make sure to use balloons to mark the party spot; hang them on the mailbox, near the front door, or tie them to the birthday child's chair to mark the seat of honor.

Place balloons anywhere that requires a splash of colour. More is always better!

Gather six or eight streamers and attach them to the ceiling in the center of the party room (or over the table). Use a light fixture over the table, if you have one, as the center point for the streamers.

To create colorful two-tone streamers, put two differently coloured streamers back-to-back, twist as you walk them to the wall, and attach at shoulder height.

Say ... Cheese!
Be sure to take lots of pictures to fill your Perfect Party Memory Album. You and your child will want to remember this special party. A great idea: Order extra prints and send them with your thank-you cards and to distant relatives. Remember, it's not necessary to have everyone in each picture. Focus on small groups and avoid posing all the photos. Action photos capture the laughter best!